L'équipe organisatrice du Belgian Throwdown, après avoir cogité un certains nombres de soirées et bue un grand nombre de bouteilles, nous a proposé 3 jours d'une magnifique compétition avec des WODS originaux.
Vendredi
Individuels
WOD 1
(for time)
20 pull ups
30 push ups
40 air squats
500m rowi
20 chest to bar pull ups
30 push ups
40 air squats
500m row
20 toes to bar
30 push ups
40 air squats
500m row
TC : 15′
Jessica Vetter – Yohann Gigord
WOD 2 : KB Dinner
(for time)
20-15-10
KB Thruster
KB Burpees
KB Swing
TC 12′
Teams
WOD 1
Each athlete performs :
35 KB Thrusters
35 KB Burpees
35 KB Swing
TC : 27′
Pendant qu'un athlète travaille, l'un des coéquipiers doit porter l'autre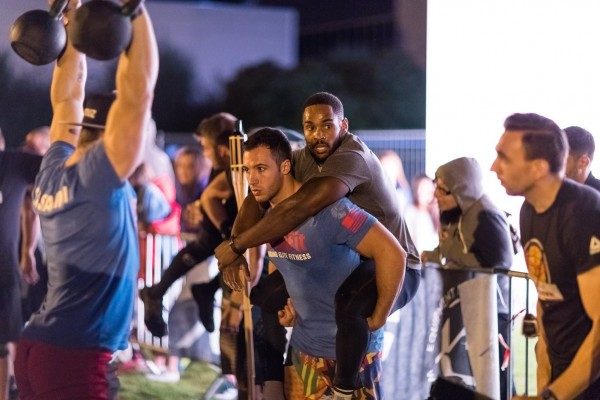 Antoine Gasparini, Stéphane Osanga et Guillaume Magnouat
Photos du jour 1 par Hani Kanaftchian
Samedi
WOD 3 Obstacle race
Individuels
Buy in : 30 box jumps (60cm/50cm)
Sprint -> passer dans un conteneur,
courir dans un corridor avec des angles de 90 degrées,
sauter 4 haies,
faire demi tour au plot,
sauter 4 hurdles,
corridor,
conteneur,
toucher la box and take off again.
Total of 3 runs should be performed to finish the workout.
TC : 6′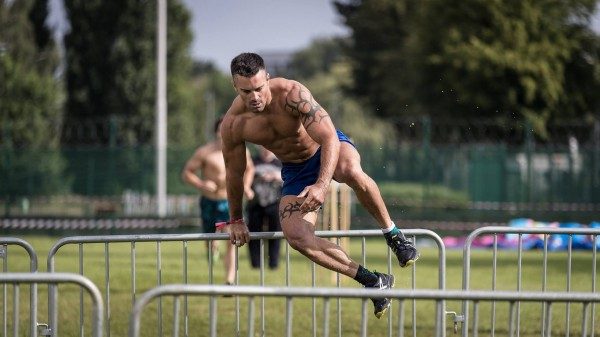 Lionel Bourrin
Teams : Every athlete has a buy in of 30 box jumps when relayed in. Then each athlete performs 2 runs with each time when ending a round relaying his buddy in.
TC : 10′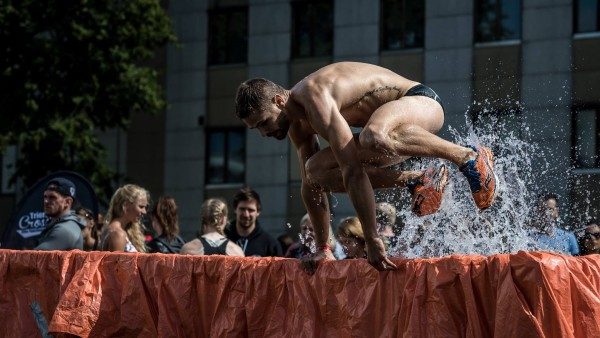 Cesar Clanet
WOD 4
Dans une fenêtre de 9 minutes, vont se dérouler 3 wods de 3 minutes chacun.
Les 3 premières minutes :WOD A, max rep clean and jerk 100/65kg (90/55kg),
Les 3 minutes suivantes : WOD B, max rep over the bar burpees,
Les 3 dernières minutes : WOD C, max rep deficit hand stand push ups.
Scored as 3 workouts.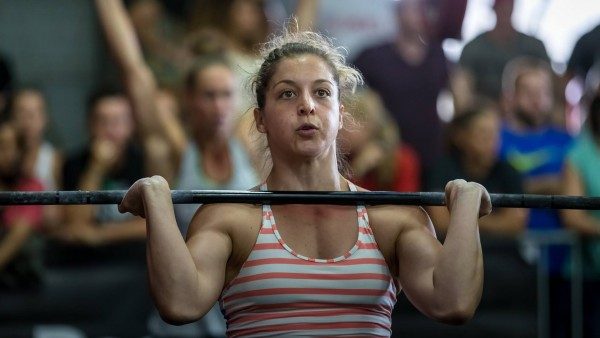 Lucie Berland
WOD 5
5′ AMRAP
Individuels :
5 muscle ups (ring dips for masters and teen women)
10 heavy deadlifts (120/80kg) (100/65kg for masters and teens)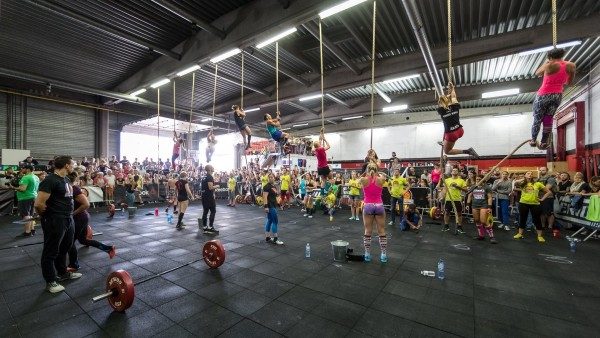 Teams :
150 DL 120/80 kg
90 muscle ups
TC 15′
Photo du jour 2 par Hani Kanaftchian
Dimanche
WOD 6
Les individuels ont le même wod que les teams
8′ AMRAP 25m length swim
2′ rest
8′ AMRAP cals on airbike
7) Final
Individuals :
50 WBS buy in 12/9 kg
50 GHD Sit ups
10m handstand walk
5 rope climbs
5 snatches (80/55 kg) (70/45 masters and teens)
40 GHD Sit ups
10m handstand walk
4 rope climbs
4 snatches
30 GHD Sit ups
10m handstand walk
3 rope climbs
3 snatches
20 GHD Sit ups
10m handstand walk
2 rope climbs
2 snatches
10 GHD Sit ups
10m handstand walk
1 rope climbs
1 snatches
TC : 20 minutes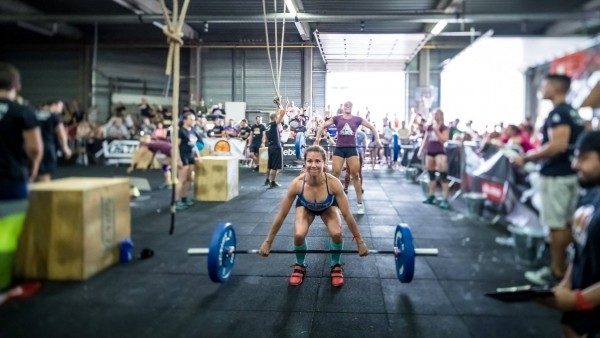 Teams :
3 stations : Station A has to be cleared before moving to station B and same for station C
A : 150 heavy wall ball shots : 12/9 kg
B: 210 GHD sit ups, 210 pistols
C : 30x10m handstand walk, 30 snatches and 30 high box jumps (1meter for men, 70 sm for women)
TC : 20′
Weight for the snatches : 80kg for men, 55 for women
Classement final
Individuels Hommes
1 : Kevin Winkens (CrossFit Lost Legion), 49 points
2 : Antoine Marmigère (Crossfit Massilia), 66
3 : Harry Werz (Hauptstadt CrossFit), 78
4 : Frederick Husson (Crossfit Lucca), 79
5 : Charles Glorieux (Crossfit Nivelles), 84
6 : Régis Cremers (Crossfit Habeas Corpus), 90
7 : Davide Arici (CrossFit Brescia), 93
8 : Tami Antoine (Crossfit Take Control), 96
9 : Cedric Volodimer (Crossfit hiringa), 102
10 : Dennis Hildebrandt (CrossFit Assault), 105
11 : Gareth Iles (Sarum CrossFit), 115
12 : Gerome Casamento (Crossfit Ember), 116
13 : thomas lacombe (CrossFit Agen), 120
13 : Bourrin Lionel (Alpes CrossFit Unity), 120
15 : Maxime Bisson (CrossFit Caen), 129
16 : Konstantin Gatke (CrossFit Saar), 147
17 : Lucien Faber Indépendant (Énergie Forme Arnouville), 153
18 : Patrick Borchardt (crossfit flensburg), 159
19 : RODRIGUEZ CONTRERAS Brian (Crossfit Habeas Corpus), 165
20 : Henning Tim Langer (Hauptstadt Crossfit), 169
20 : Yohann Gigord (CrossFit GalileO), 169
22 : Emmanuel Dhaenens (CrossFit Kortrijk), 178
22 : Joeri Binet (Crossfit Moves), 178
22 : Nicolas Degroide (CrossFit Wavre), 178
25 : Paweł Kurzydło, 180
26 : Dean Kelleher (Elevate Fitness and Performance), 183
27 : romain piegay (crossfit lyon), 196
28 : Mathieu Pieters (CrossFit Da Vinci), 197
29 : Damiano Conci (CrossFit Da Vinci), 203
30 : Alexis Bellod (CrossFit Lyon), 205
31 : Vojtech Firla (CrossFit Davinci), 216
32 : Christoph Flakowski (Crossfit Reutlingen), 220
33 : Mike Ruggiero (Crossfit Ember), 222
34 : Jonathan Fletcher (Reebok Crossfit Valens), 235
35 : Alexandre Toumi bradley (CrossFit Aix en Provence), 236
36 : Anthony Maziere (Crossfit Angoulême), 247
37 : Eric Bruni (Crossfit Hiringa), 29
Individuelles femmes
1 : Carole Castellani (CROSSFIT LYON), 31
2 : Jessica Vetter (Reebok Crossfit Louvre), 45
3 : Alizee Andreani (CrossFit DBS 83), 54
4 : Anne-Claire Dreyfus (Crossfit grillen), 55
5 : Sarah Massoni (Crossfit 1815), 63
6 : ANGONESE Manon (Crossfit Valens), 80
7 : Paula Mel de Landa Esteban (Crossfit Bilbao), 83
8 : Sandra Stein (CrossFit Potsdam), 96
9 : Laurie anciaux (Crossfit W950), 99
10 : Lucie Berland (CrossFit Lyon), 109
11 : Evgenia Zimmer, 113
12 : Louise Retailleau (Crossfit cholet), 118
13 : Eva Maes (Reebok Crossfit Brussels), 129
14 : Virginie Blasioli (Crossfit Aymon), 130
15 : Elisabeth Edich (CrossFit Am Main), 140
16 : Ina Buchwald (CrossFit am Rhein), 148
16 : Elodie Chevalier (Crossfit Cholet), 148
18 : Marquis Nathanaelle (Crossfit 571), 149
19 : Michelle Decruy (Crossfit kortrijk), 153
20 : Maryse Bauwens (Crossfit Nivelles), 162
21 : Anne-Sophie König (Haupstadt CrossFit), 165
22 : Degrave Pauline (Crossfit dunkerque), 169
22 : Mieke Van de Paar (Crossfit Mol), 169
24 : Ellen Gussinklo (CrossFit Doetinchem), 170
25 : Annie Wandukisa (My Burning Crossfit), 179
26 : Laura Castellani (CrossFit Istres), 189
27 : Linda Di Teodoro (Crossfit6000), 191
28 : Joanna Szala-Bilnik, 195
29 : Valerie SITHIMOLADA (Crossfit lisses), 196
29 : Sarah Brison (Crossfit Mons), 196
31 : Ariane Spanneut (Crossfit Hiringa), 197
32 : Viktoria Feldbusch (Crossfit Main Taunus), 198
33 : Andrea Barnes (CrossFit Thanet), 202
34 : Veronique Theis (Reebok Crossfit Valens), 203
35 : Eliana Beié (Reebok Crossfit Valens), 213
36 : Myriam Raes (Crossfit Leuven), 220
Masters hommes :
1 : Fabian Soligo (Crossfit habeas corpus), 26
2 : Boris Lemarechal (CrossFit064), 34
3 : Nordey Guillaume (Crossfit CP95), 37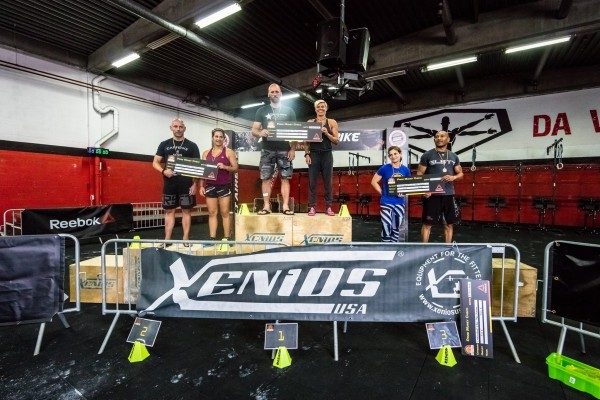 4 : Pierrick Bellet, 43
4 : Jerome Dorgueilh (Crossfit Galiléo), 43
6 : Sergio Cabeza (Reebok crossfit valens), 49
7 : Arnaud Lebellanger (Crossfit oveny), 50
7 : Olivier muller (CrossFit Rueil Malmaison), 50
9 : Nico Galloyer (CrossFit Take Control), 58
Masters femmes
1 : Elke Vanrenterghem (CrossFit Brugge), 17 points
2 : Laetitia Chergui (Crossfit Grenoble), 19
3 : Karine Lagrut (CrossFit Bourgoin), 22
4 : Isabelle Steenhaut (Crossfit Aalst), 31
5 : Nathalie Pesez (Go'up CrossFit Calais), 40
Juniors hommes
1 : FELLONNEAU Romain (CrossFit Bordeaux), 24
2 : Michel Visser (Crossfit Vlaardingen), 27
3 : Jonas Schmidt (CrossFit Schmiede), 42
3 : Alex Hausner (Crossfit Proton), 42
5 : Jordy van den Broek (Elite Benefit Gym), 43
6 : Tommaso Pieri (CrossFit Lucca), 47
7 : Justus Schulze (Crossfit Potsdam), 50
8 : Guillaume Mouly (CrossFit Hiringa), 62
8 : HALAOUI Maxime (Crossfit Nice), 62
10 : florian dufils (Crossfit Rollon), 74
Juniors femmes
1 : Milena Gianelli (Crossfit Imperia), 21
2 : Ophelie Couchot (Crossfit064), 32
3 : Luise Caesar (Hauptstadt CrossFit), 33
4 : Lisa Dujesiefken (Crossfit 530), 47
5 : Marie Robin (Crossfit Hiringa), 48
6 : Lotte Heemstra (Crossfit Heerhugowaard), 51
7 : Cynthia Ancri (CrossfitCP95), 53
8 : Alice Darlas (Crossfit064), 54
9 : Laura Jenniskens (Crossfit Galiléo), 69
10 : Lena Krautscheid (Crossfit An der Sieg), 70
Team hommes
1 : Team Merci César (CrossFit Galiléô), 23
2 : Buddy's (crossfit hostilius), 24
3 : the three musketeers (indian crossfit), 28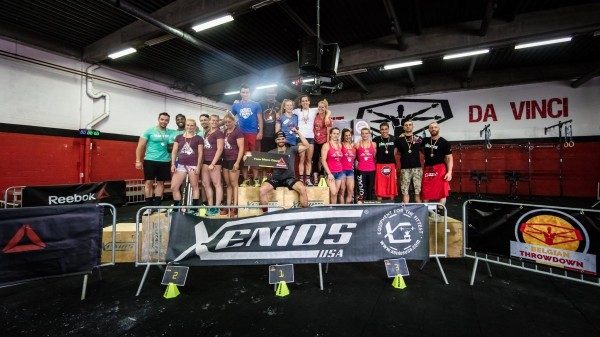 4 : Crossfit Pulheim (Crossfit Pulheim), 40
5 : Valens Vikings (Reebok Crossfit Valens), 44
6 : The Gaintrain (Crossfit Flensburg), 50
7 : agence tout risque (crossfit), 54
8 : CrossFit Celle (CrossFit Celle), 64
9 : Colliery Made Colliery (CrossFit Ostrava), 74
10 : Les Apaches (CrossFit Nivelles), 76
11 : team pirate KB (independant), 79
12 : We are Son of bitch (Crossfit Frejus), 87
13 : Crossfit Aymon (Crossfit aymon), 91
14 : Chicken legs (Crossfit571), 92
15 : G-STEEL (Crossfit G-STEEL), 93
16 : Squatnungsamt (Reebok Crossfit Düsseldorf), 95
16 : CF french riviera and CF 3.84 (crossfit french riviera), 95
18 : 100 Pourcent CrossFit (100 Pourcent CrossFit), 100
19 : Garage Gym Chambery (Independent), 108
20 : c'est dur mais on y va quand meme ! (Crossfit saint maur), 109
21 : Kit Nos 958 (CrossFit Besançon 958), 110
22 : The Hobbits Triers (CrossFinest), 125
23 : TEAM LOPEZ (Crossfit L'Entrepot), 134
24 : Inglourious bastards (Indépendant), 139
25 : Black Monkey (CrossFit Mons), 140
Team Femmes
1 ; Gu's & Galiléô Girls (CrossFit Galiléô), 9 points
2 : Team PRIMAL nutrition (Black oak), 31
3 : LES FURIES (CROSSFIT BELFORT), 39
4 : Kttysquat team (crossfit Lyon), 42
5 : les violettes Fiteuses (crossfit saint simon), 43
6 : 100 Pourcent CrossFit (100 Pourcent CrossFit), 52
7 : Crossfit Flensburg Girls (Crossfit Flensburg), 54
8 : Arnhemse Meisjes (CF Arnhem), 59
9 : Crossfit Saint Maur (Crossfit Saint Maur), 61
10 : Valens Vixens Reebok (Crossfit Valens), 65
11 : KA BOOBS (Indépendant), 69
12 : #klaxonnesitesbonne (CrossFit Galileô), 76
13 : Big Butts And Coconuts (Crossfit Brugge), 79
14 : Les Red Skin Girls (Crossfit 571), 81
15 : Jerk Some Love (Crossfit Salon de Provence), 86
16 : She-wolfs (Crossfit wavre), 98
17 : FOUFANA POWER (CF AIX EN PROVENCE), 109
18 : Pavisdottir (Crossfit Renoster), 111
19 : Cake & cookies (Reebok Crossfit Brussels), 112
20 : Patatas fritas (habeascorpus), 121
21 : Wonder Women (CrossFit Ember), 122
22 : Tanka Girls (Crossfit Tanka), 123
23 : Fat Monkeys (CrossFit Da Vinci), 125